The Art Collector
Written By David Soud
Artist Prifile: Keith Holt
For years, Keith Holt spent his days teaching children how to leap, turn, twist, and otherwise create beautiful transitory shapes in midair. At the gymnastics centre he owned in Maryland, Holt was refining the sense of form and movement that he now brings to wood sculptures he creates in his studio. Those exquisitely envisioned and constructed forms, mostly turned on a lathe in a variety of ingenious ways, have begun to attract the attention of prominent collectors.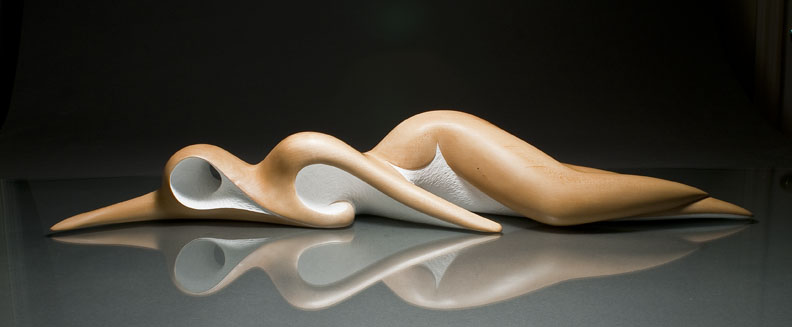 'The concept of spinning wood into creative shapes was a very appealing and meditative process', Holt says of his turn to sculpture. 'When I am creating, everything slows down and feels solid and right'. But such sturdy modifiers as 'solid' and 'right' do little to capture the elegance and force of such pieces as Resting Figure and Open Minded. Nor do they convey Holt's grounding in art history. A typical browser at a craft fair is unlikely to discern how Holt's Little Big Guy alludes, both in title and form, to Raphael's Madonna of the Goldfinch. As Holt insists, 'I'm trying to say something beyond its being a beautiful object'.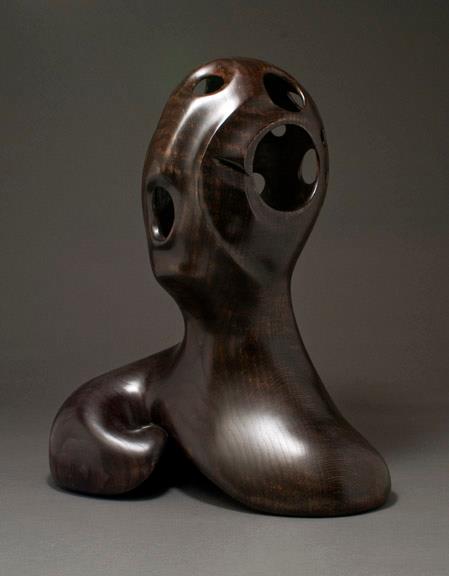 It is that intellectual and spiritual content that elicits the interest of collectors such as Steve Keeble and his wife, Karen Depew. 'There are concepts behind Keith's work', affirms Depew. As Keeble sees it, 'More buyers should consider these concepts as well as appreciating skill with the material'. In keeping with that view, Keeble and Depew have sought to gain broader exposure for Holt's art. This is no easy task, given that wood, as a medium, still occupies an ambiguous position at best in the eyes of much of the art market. As Holt plainly states, 'Wood has been used by artists for centuries, but today it seems to be the stepchild of the art world.' It still bears the stigma of being a craft as opposed to an art—a distinction for which Holt has little use. 'It's an endless exercise of debate. Speaking as a wood sculptor, without my ability as a craftsman to execute a piece, there would be no sculpture.' But, as Keeble is quick to note, the art market tends to buy into the dichotomy: '"Craft" is a value-laden term. In the art world, participating in the "craft" market can limit your acceptance, and the prices your work can command'.
Wood has long been regarded as an 'organic' material worked by artisanal 'makers'; even now it remains tied to a nostalgic appreciation for well-crafted domestic objects such as bowls, platters, and chairs. Artists like Holt, who not only create abstract, high-art forms but occasionally do the unthinkable and paint their work, run counter to that counterculture. Most of them are self-taught, and have had to develop through channels that offer no real access to the fine art market. The usual point of entry for selling their work has been the craft market, where technical skill and the beauty of the material are paramount. Somewhat ironically, their success in that arena has also confined them.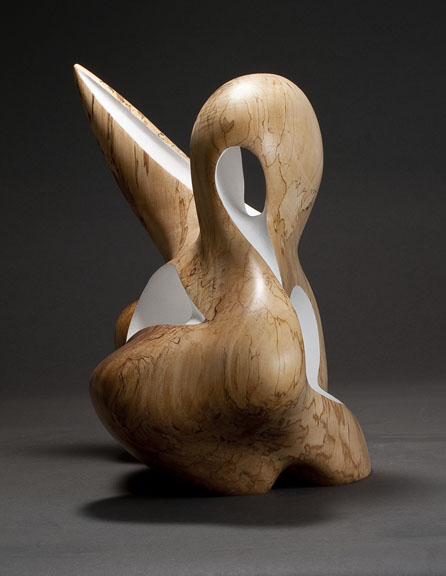 The challenge facing these artists is achieving what Keeble terms 'escape velocity' from the world of craft fairs and specialty galleries. Holt, for instance, now finds himself in a position where his work is ill suited to craft shows and needs outlets well beyond that circuit. He is only now beginning to negotiate with fine art galleries more accustomed to sculpture in bronze, stone, and glass.
On one level, those difficulties ought to be easily overcome, since wood as a medium has a distinct aesthetic appeal and presents formidable challenges to a sculptor. Holt is fascinated by the complex negotiations it demands—'the process of carving and working with the form in relationship with the grain of the wood'. Keeble and Depew share that appreciation. 'Certain aspects of working with wood are really interesting to us', says Keeble. 'For instance, it's subtractive. It's inconsistent. The work has to adapt to what the material will allow'.
In Holt's work, what arises from that painstaking process is often breathtaking. In their combination of sensuous curves, authoritative lines, and dramatic contrasts, his abstract pieces recall Henry Moore, Barbara Hepworth, and even Henri Gaudier-Brzeska. Such figures as Thinker combine a fluid, captivating sense of motion with contemplative stillness. True to his belief in making the art transcend the medium, Holt effectively tames the wood, showcasing its inherent beauties of colour and grain selectively, always at the service of concept and form.
For Keeble, it is this combination of inspiration, concept, and execution in a challenging medium that makes Holt a successful artist. In relation to artists like Holt, Depew and Keeble see themselves more as patrons than collectors: 'We're interested in the artist first, then the medium', Keeble is careful to make clear. And they don't see an artist of Holt's talent and vision remaining satisfied with one medium. He won't work only in wood for long, they believe—perhaps bronze will come next. 'The next time we buy one of Keith's pieces,' says Depew, 'it might be something so large that we need to display it outdoors'.
And they may well be right. Wood may be his first love as a sculptor, but Holt is already envisioning the possibilities of metal and stone. He has even begun experimenting with 3-D printing as a way of testing forms and scaling his work differently. The more he sculpts, the more the expressive possibilities multiply. 'Making my refuge a courier is the most difficult thing I've ever done. It tests me emotionally, mentally, and spiritually—even my day-to-day functioning—as I have never been tested before. But I wouldn't trade this life for anything'.
Written by: David Soud on November 8, 2013.